Do your emails get lost in crowded inboxes?
There are a lot of factors to consider when you're trying to market to prospective families or keep current families engaged. Expertly share the latest news at your center, updates, enrollment deadlines, and more to gain and retain families.
Coming up with new marketing strategies for childcare isn't always easy - but we've created this cheat sheet to help remind you of all the little details that make a big difference. In this article, learn how to enhance your email marketing to maximize enrollments with daycare advertising examples.
---
Email Marketing Tips for Childcare Businesses
1) Identify Your Audience
Millennials and Gen Z are your primary parent demographics. Millennials account for 80% of today's parents to children under 12, while Gen Z will make up the majority of first-time parents in the US before 2025. Millennials and Gen Z want personalized, digital experiences – from making purchases and communicating to childcare services. Plus, they're expecting a simple customer journey with convenient options from your center before and after they enroll their child for care. Easily send messages to your main demographics by viewing additional tips in the video below.
2) Plan Your Email Marketing: Segment to Share the Right Content
First things first - ensure your childcare business has a simple email address. Keep it professional and short, so it's easy for parents and guardians to recognize.
Then, map out your direction. Don't just jump in the car and drive. Create an email marketing schedule. Look ahead at special events or holidays and plan accordingly. Ideally, you should be sending at least one newsletter every month to engage families with consistent updates that involve their children. But keep in mind - if you send too many emails too often, parents may simply unsubscribe.
Segment your families into smaller collections of people within your customer database based on their similarities or interests. For example, if you're marketing to fill open spots in an infant class, group contact information from families with children in that specific age group. Send emails to the right people at the right time. Additionally, share articles that include at-home tips to strengthen a baby's muscle coordination or balance. Support parents through their child's developmental journey.
For more tips on how to schedule your marketing emails, read our email marketing guide or check out the video below.
Email Marketing FAQs
Q1: What is email marketing?
A: Email marketing is the act of sending a message to a broad group of prospects or customers - based on an internal contact list. Email marketing promotes products or services, grows brand awareness, and builds relationships with your audience.
Q2: How often should I send marketing emails?
A: While your email cadence should be based on your customer lifecycle, it's known that prospective parents require at least 7 communications each before they decide to enroll. To begin, try sending out emails once a week. Adjust for growth, as your childcare business shifts enrollment and marketing goals.
Q3: How long should each email be?
A: A good rule of thumb is to create an email that takes an average of 20 seconds to read. Try to stay between 50-125 words.
Q4: What's the best day to send emails?
A: Emails sent on Tuesdays receive some of the highest open rates.
Q5: How can I make families open my emails?
A: Use drip campaigns and automated email campaigns to intuitively send unique, personalized emails. Families want an individualized enrollment experience that makes them feel special and heard.
Q6: Is the return on investment (ROI) for email marketing worth it?
A: Email marketing has a $36-$40 return for every $1 spent. You'll see one of the highest returns for your investment - compared to other marketing types. Invest less and gain more enrollments with email marketing.
3) Craft an Attention-Grabbing Subject Line
The subject line is usually the determining factor in whether the reader will open your email. Your subject line needs to relate to the topic of the email while also capturing the reader's attention. But whatever you do, make it brief. Build stronger email marketing campaigns by using no more than 9 words and 60 characters. In the example below - the subject line is short, clear, and draws the reader in with an exceptional offer.
Email Marketing Example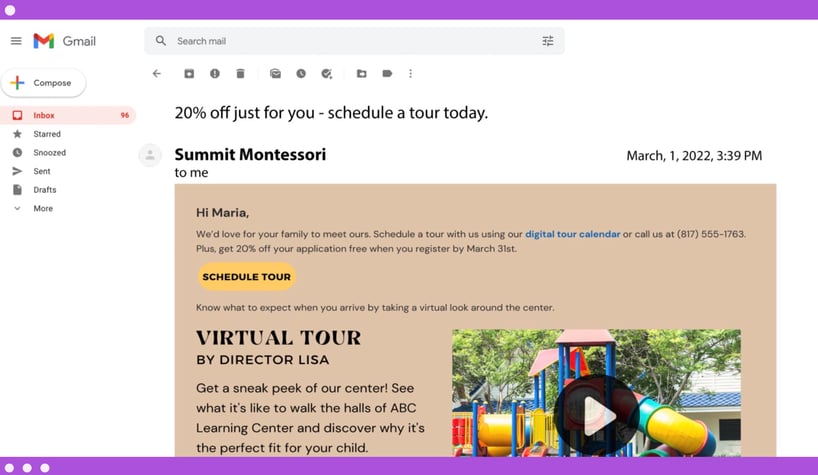 Email marketing template with discount offer
4) Make it Pretty with Pictures
Images are going to capture your readers' attention. Use pictures that are relevant to the topic and will leave an impression. Whether it's a picture of the playground or a funny picture of your staff on Halloween, make sure your parents will remember it.
Remember: you should never use pictures of children from your center without their parent's written permission.
Example email template
5) Use Your Logo and Branding Elements
Of course, branding and logos are important when you're thinking about how to advertise a childcare center! It's the graphic signature of your business and should reflect the fonts, colors, and design choices from all of your marketing materials.
Check Out a Tool to Brand Your Emails
Try out LineLeader by ChildcareCRM's brand new email templates and add your brand colors for a more professional-looking email. You can store your brand colors, logo, imagery, and much more. For franchise locations and childcare enterprises - store your branded email templates and automate whom they send to with merge variables.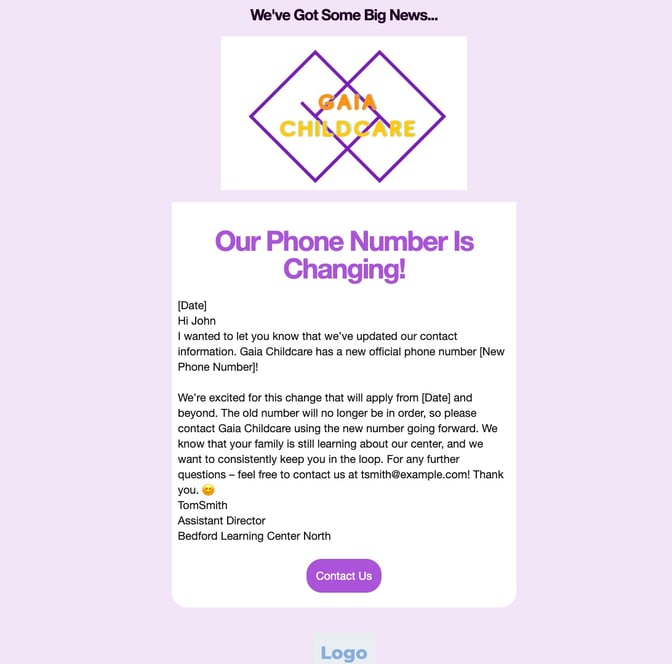 Example stored email template with branding elements
Learn More About Intuitive LineLeader Email Marketing Features to Grow Your Center with One Unified Platform
6) Use a Personalized Strategy for Your Email Marketing
Treat your readers like VIPs. If you want your email marketing to stand out from the rest, it's important to connect with your reader. Put some personality into your writing and address your reader by their first name to grab their attention. Understand and relate to your audience by writing engaging content that is tailored to their interests and needs.
If you want to give the impression that the email was written solely for their benefit, add their name or their child's name using email personalization keys. Give the communication a personal touch.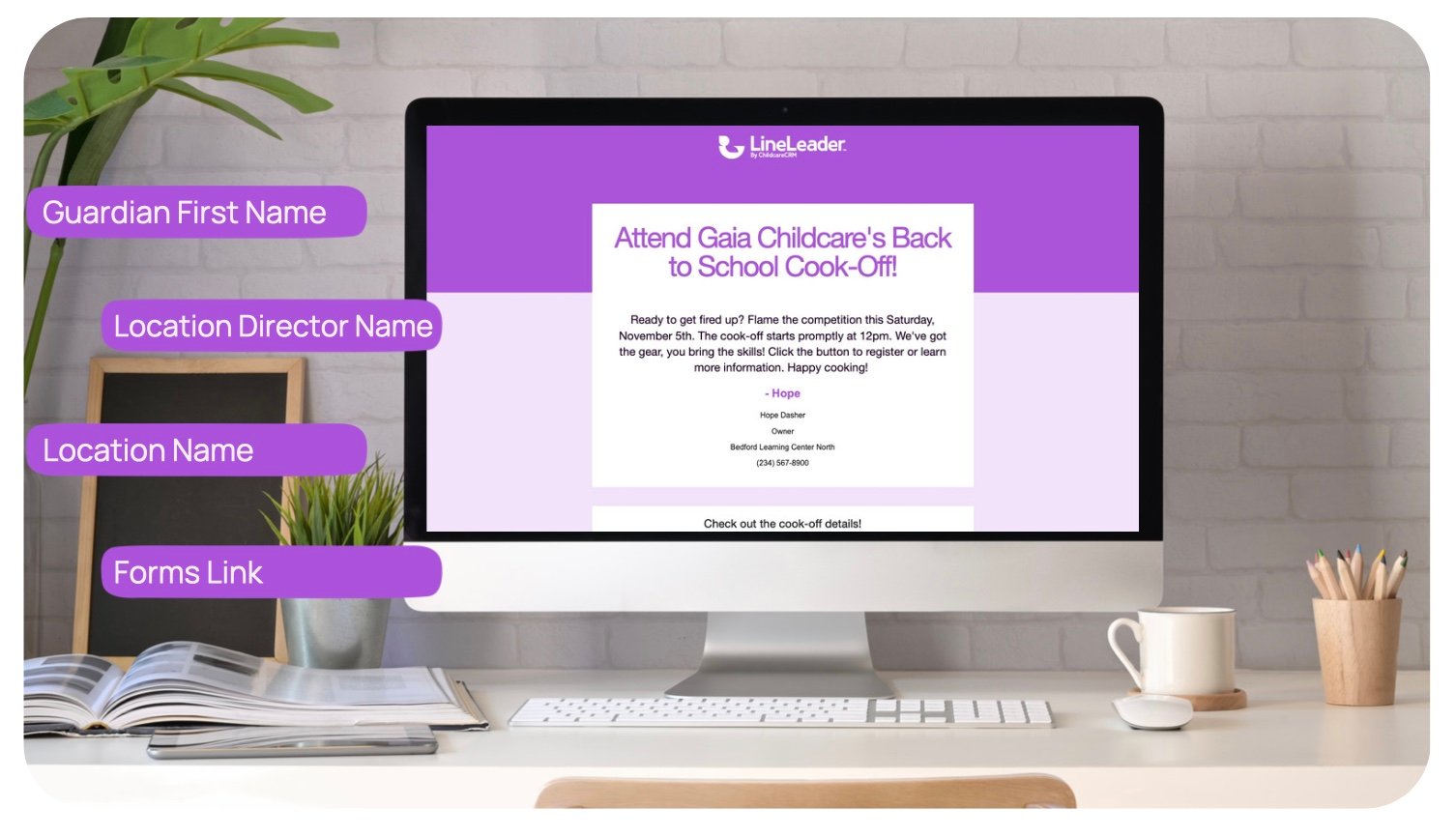 7) Step Up Your Personalization Game with Drip Campaigns
If you're planning a drip campaign, decide on a regular cadence to establish how often you want families to receive emails from you. Drip campaigns are a simple email marketing tactic that lets you automate emails and share unique content, based on how potential families interact with the content you share! Think of a 'choose your own adventure book. A family that downloaded one of your how-to guides receives a different email than a family that never opened your message. Drip campaigns build a personalized experience, guiding families through enrollment.
Use drip campaigns to further personalize email messages based on how parents interact with the content you provide.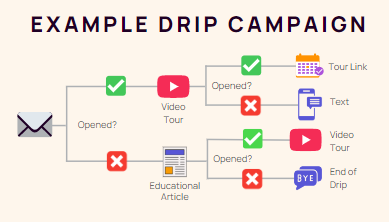 Example drip campaign
See Email Marketing Examples
Email advertising focuses on the promotion of specific products or services. Email marketing can promote your centers or simply educate families with valuable information.
Check out the LineLeader 'What's New' marketing email below that highlights new product features.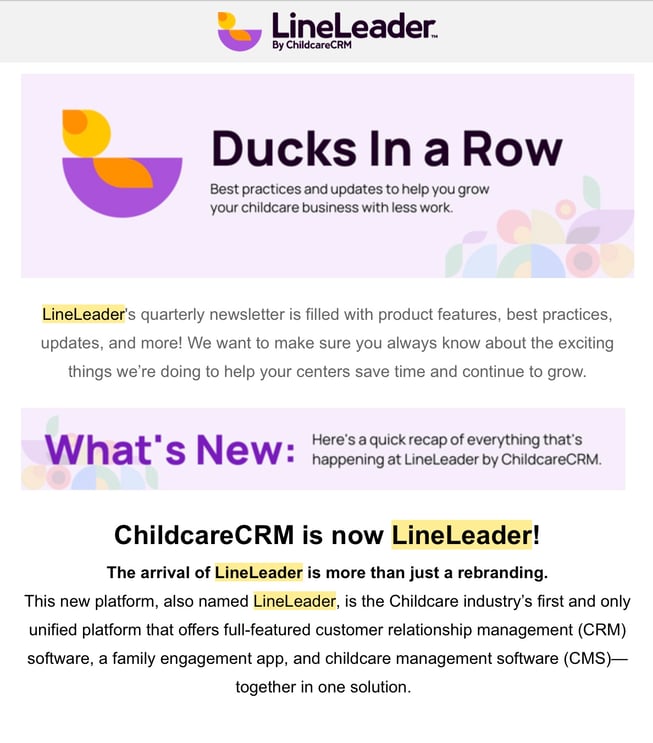 Example LineLeader marketing email
8) Offer Value With an Explanation
Nearly 80% of people are only scanning your email.
Your first sentence is the most important, so say something interesting and try to keep it short. Recipients should be able to read your first line in under 1 second.
Try not to make your email too long, keep it to the point to make it easy for them to scan quickly. Sometimes making your message seem like more of a conversation. Ask questions that get your audience to agree with you. Make your message interesting and informative so it's captivating and valuable. Decide what to write and keep it an easy read. Take a glance at this article for more tips on how to build an email marketing campaign that wins enrollments.
9) Add a Call to Action
Curiosity is one way to increase action. Use phrases that make your reader want to ask for more. Lead your prospects to ask the question you want to answer, get more kids in your daycare enrollment, or have families register for your upcoming event.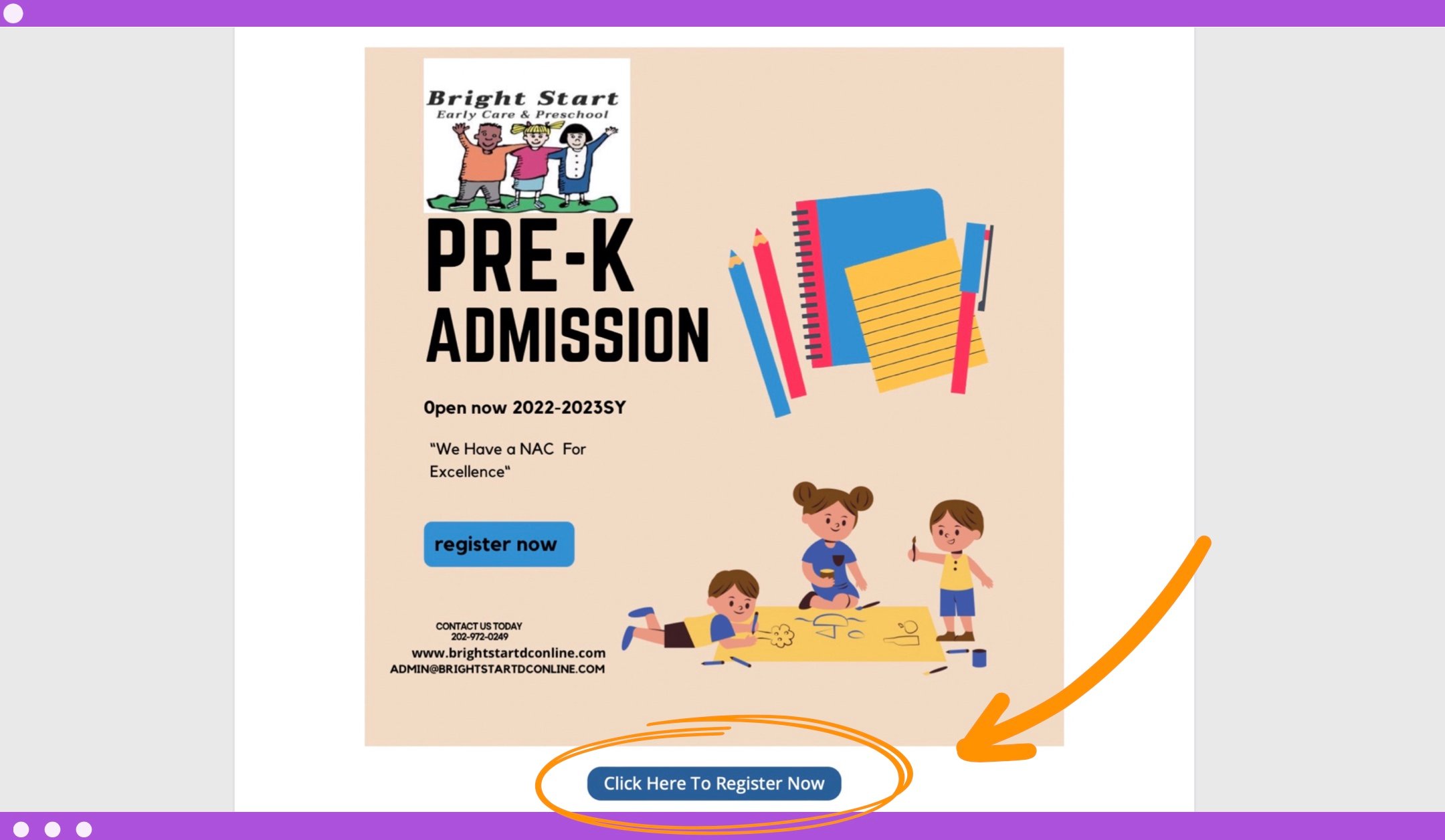 Example CTA button
10) Be a Thought Leader on Childcare Topics
Operating a daycare offers a lot of great experience, but not every owner or director has worked with children. If that sounds like you do some research on topics that relate to your audience.
Nobody is looking to be impressed by your vocabulary, so use simple words your readers will understand. A good rule of thumb is: don't use any language that a 5th grader wouldn't understand.
Provide your audience with useful information about their interests and needs. If you're marketing to your preschool families, you can include ideas and parenting tips that would help them.
11) Include Links to Follow Your Social Media Accounts
Parents are on social media. If you have social media accounts or a blog, share the links in your email for the reader to find more information. Point your readers to places where they can access more of your email marketing ideas for childcare or other website resources for childcare. Utilize Facebook, Instagram, YouTube, and more to meet parents where they're at. Use the tips in the podcast below to manage and grow your online presence.
12) Have a Privacy Policy Link and Never Forget the Unsubscribe Link
You should always include a link to your organization's privacy policy to give your readers peace of mind. The number one reason people unsubscribe is that they're receiving too many emails. Offer your readers a nice way to tell you they aren't interested in including an unsubscribe link toward the end of the emails (this will also save you from going to the spam mailbox). Check out the CAN-SPAM Act for more information.
13) Send Test Emails to Yourself and Coworkers for Review
This seems obvious, but it's easy to forget and you'll wish you did if you don't. Check for typos and make sure all your links work correctly. Ask for feedback on the layout as it helps to get a second pair of eyes to spot things you didn't notice.
14) Measure Your Performance
LineLeader has a report that can show you how many people read your email and whether they clicked links within the email. Automated emails get higher click rates than broadcast emails, so build your workflow automation to catch people at the right moment - when they are ready to enroll or schedule a tour.
Most people check their email first thing in the morning, so the afternoon is the best time to check how many people opened and clicked. Learn how to measure your business performance and monitor childcare center productivity in this resource.
Important KPIs for Email Marketing
KPIs stand for key performance indicators. They help you plan and reach specific enrollment goals.
Bounce rate - emails that don't make it to the recipient's inbox.

Open rate - number of parents that open your emails (this KPI is most affected by your subject lines).

CTR (click-through rate) - the number of parents that click the links and CTA buttons in your marketing emails.

Conversion rate - how many parents clicked your links or CTA buttons and performed the desired action.

Email ROI (return on investment) - how much revenue you've generated compared to how much you've spent on each campaign.

List growth rate - how many new subscribers you gain from your email list.
---
Not a User Yet?
Schedule a demo to learn more about how LineLeader can enhance your email marketing with less work.
Already a User?
Check out the full Guide to Build Email Marketing Campaigns for Your Childcare Center.