Personalization is essential for both enrollment and retention success. ✔️
Did you know that almost two-thirds of Gen Z consumers (64%) expect brands to provide a personalized experience?
And a whopping 71% of consumers get frustrated when their shopping experience is impersonal.
By consistently providing personalized communication—customized messages, unique content, updates on curriculum and meal planning—and letting staff receive parents' real-time feedback, you'll engage with families more effectively and build meaningful relationships.
See exactly how to give families the personalized experiences they're looking for. 👨‍👩‍👦
---
Table of Contents
The Value of Personalization
Your families are bombarded with promotional messages and advertisements on a daily basis, so it's important that your emails and text messages stand out to get noticed. Using segmented, targeted, and personalized emails can generate as much as 58% of your revenue.
For example, when prospective families see relevant information (like potty training articles for a parent with an 18- month-old) or their own name in the subject line of an email, they're more likely to respond. Personalization can also foster loyalty—studies show that brand loyalty among Millennials increases 28% on average if they receive personalized experiences from businesses.
When it comes to retaining families, it's important to consistently share updates about their child. After all, families don't want to miss out on memorable moments while their child is in your care. By building loyal relationships through personalization, you can create relevancy and retain more families.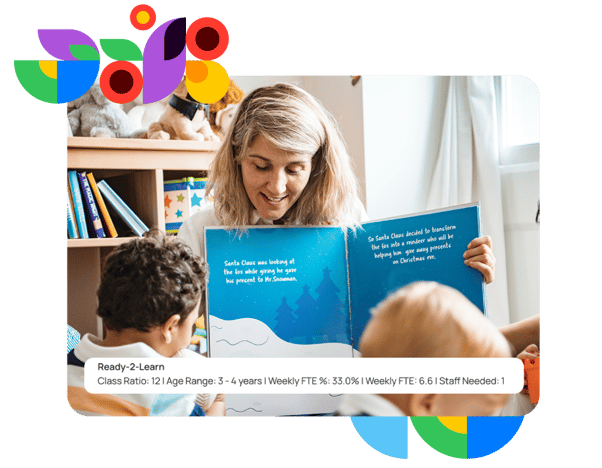 Children learning
Best practices for g

iving families the p

ersonaliz

ed

e

xperiences t

hey're

looking for.
1) Engage families with consistent, tailored content.
66% of consumers won't make a purchase if they receive content that isn't personalized to their unique needs. Our top converters send 2-3 texts and 6 emails to leads throughout the enrollment process. That's why it's so important to share tailored content with parents as soon as they express interest. This content should be relevant to their child's age, classroom, or program of interest.
To build automated marketing campaigns, consider using childcare software. This software helps with drip campaigns—a series of behavior-based messages delivered through email and text that are designed to nurture leads, re-engage lost opportunities, and keep current families updated.
2) Build a better connection with new leads using personalization keys.
In order to make your emails and texts stand out and effectively connect with your audience, it's important to treat families like VIPs. Address your reader by their first name to grab their attention, and consider personalized touches like using their first name, referencing the specific center location or program they inquired about, and sharing content that relates to their child's age or developmental stage.
Personalizing emails and texts can be time-consuming, but using childcare software makes it easier by allowing you to automatically customize your communications with personalization keys like [Guardian First Name] or [Lead Start Date]. By making families feel special and giving them a sense of belonging to your center, you can strengthen your relationship with families and improve the success of your marketing efforts.
3) Share developmental milestones regularly.
Effective family communication is key to growing enrollment and retention.
Our survey revealed that almost half (42%) of childcare professionals reported sending updates to families about their child's development 2-3 times per week.
To keep families informed and connected, consider using childcare software that enables teachers to easily and securely update families by sharing videos and photos of key moments throughout the day, such as nap time, sleep checks, and developmental updates.
This will help you retain more families and provide staff with the tools they need to keep parents informed about their child's progress.
4) Update families on curriculum and meal planning.
32% of childcare businesses consistently communicate with enrolled families at least once a day, according to our survey. This practice keeps families informed about their child's progress and can lead to greater engagement. This ultimately contributes to better educational outcomes for the child.
With the right childcare software, educators can easily collaborate and manage curriculum plans digitally, using tools like a planning calendar to stay organized and compliant with center and state regulations.
In addition to sharing curriculum plans, childcare centers can use childcare software to track student allergies and dietary concerns and to inform parents about daily, weekly, or monthly meal menus. Centers can also take advantage of USDA reporting to increase cost savings and maximize profits, as they may be eligible to receive reimbursement for providing up to 2 meals and 1 snack per day under CACFP laws.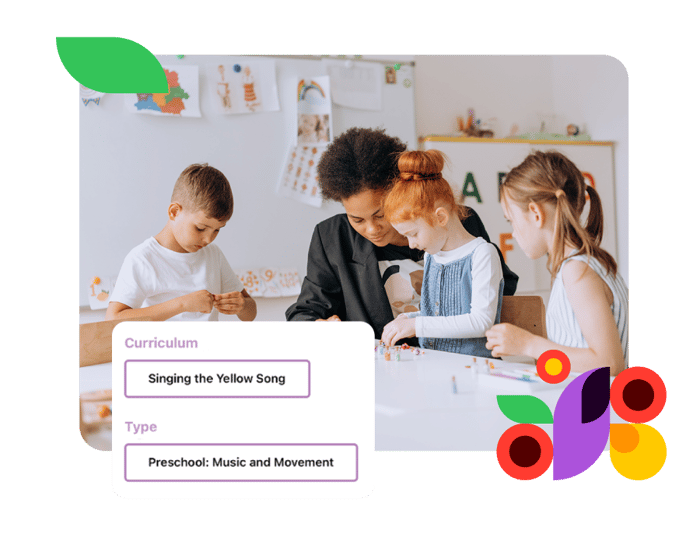 LineLeader: Digital Curriculum Management
5) Enable staff to receive real-time feedback from families.
To deliver the personalized experience that families want, it's helpful to gather feedback from parents. Digital surveys are a fast and easy way to collect feedback. This helps you collect valuable insights from families, at scale, to improve retention rates.
In addition to surveys, educators can also gather feedback through two-way messaging or by observing reactions to newsfeed updates. This keeps teachers connected to families and increases job satisfaction. Staff can also monitor family engagement levels through reports that help them prioritize re-engagement efforts. By using these digital tools, you save time and improve your childcare experience.
Video Recap of Blog! 📹
---
Make every family feel like a VIP.
Personalization is no longer just a nice-to-have feature, but a necessity for enrollment and retention success. With Millennial and Gen Z guardians expecting personalized experiences, and the majority of consumers becoming frustrated with impersonal interactions, it's important to provide customized communication and unique content to engage families effectively and build meaningful relationships.
So why wait? Start implementing personalization in your enrollment strategy today to deliver exceptional experiences for your families.
Not a User Yet?
Schedule a free demo to see how LineLeader helps you treat families like VIPs, almost hands-free.

Already a User or Simply Want to Learn More?
Download the benchmark report to improve your childcare experience in just a few clicks.
Additional Content Resources