Dallas, TX – October 11th, 2022
Today we are LineLeader!
We're proud to announce the acquisition of MomentPath, top-rated childcare management software, the rebranding of ChildcareCRM and the launch of our newest platform, LineLeader. See important FAQ's about our new LineLeader platform below.
General FAQs
What announcement did ChildcareCRM recently make?
ChildcareCRM announced the acquisition of MomentPath, childcare management and family engagement software based in Indiana, USA. Both companies will now be called LineLeader along with their newest platform. Learn more.
How does this change affect me?
Users of ChildcareCRM and ChildcareFORMS will remain on their current product(s) with no change. The only change for our Australian customers is our name which is now LineLeader. Customers will continue to work with the same great people they worked with prior to the acquisition.
Why did you choose the name LineLeader?
Do you remember the best job when you were in preschool? It was being chosen as the line leader. As the line leader, you had to guide your class—in an organised way—from the starting point to the ending point.
Our technology platform empowers childcare professionals to be line leaders every day as they organise and guide families from their starting point (enquiry) to their ending point (re-enrolment). We're reshaping childcare by providing a unified platform with absolutely everything a childcare business needs to be successful.
What challenges does LineLeader solve?
Most childcare businesses are juggling multiple products to manage their business. They're buying, onboarding, training, managing, and getting support for, on average, more than six different products. This is expensive, time-consuming, and inconvenient for staff and families. More importantly, it makes it difficult to succeed in an increasingly competitive market.
With the introduction of LineLeader, you get absolutely everything you need to run your business and optimise your family experience in one unified platform. With one login, you can easily search, manage, and report on pre- and post-enrolment data, making running your business—and your family experience—easier and more convenient.
While we are really excited to welcome the new products, these will not be available for customers in Australia just yet. More information and communications will be sent when the time arrives!
What is the LineLeader platform?
LineLeader is the industry's first and only Childcare Experience Platform (CXP) that provides childcare businesses with everything they need to manage their business and optimise the family experience. Plus, the LineLeader platform is easier to manage, adopt, and use. Childcare businesses can now partner with one company, get support from one company, and get best-of-breed technology.
With LineLeader you can:
Enrol more families

. Capture and convert more leads. Automate lead follow up, tour scheduling, registration, and reporting. Move from paper enrolment packets to online registration.

Engage families

. Automate daily reports to share events with families in real-time. Automatically share developmental milestones and memorable moments. Easily communicate with families via our family engagement app.

Simplify centre management

. Digitise check-in by replacing paper check-in sheets with digital check-in for students and staff. Bill and invoice online including recurring payments. Quickly report on attendance, payroll, and more.
Engage and Manage products will be coming soon to Australian customers.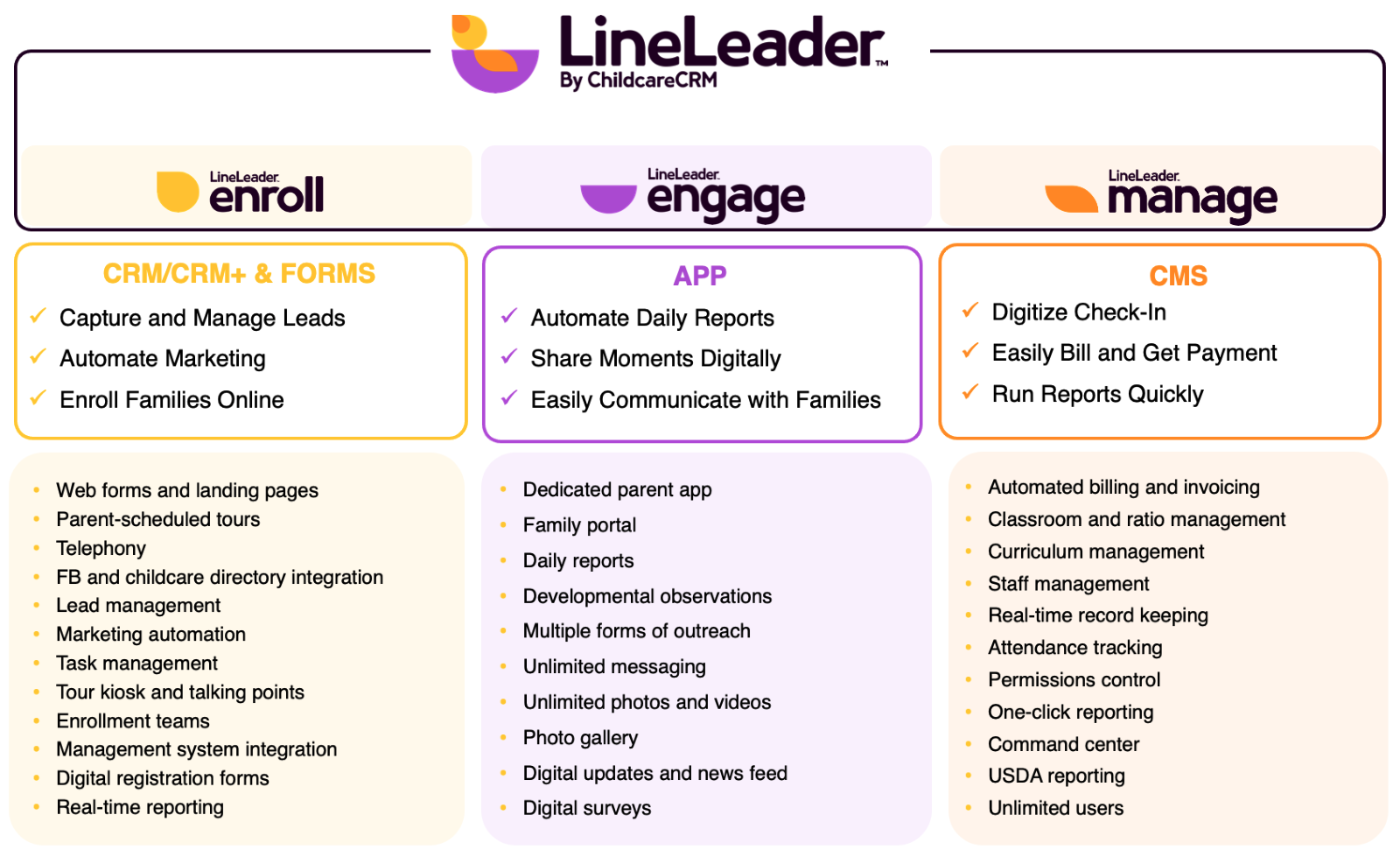 The 3 modules within LineLeader by ChildcareCRM – Enrol, Engage, and Manage
LineLeader also includes several core platform features:
One Platform, One Login

: Login once and easily access all LineLeader functionality from enrol to engage to manage.

One User Experience

: Easily navigate across enrol, engage, and manage functionality with one familiar user experience.

Unified Search and Data

: Search across your prospective and enrolled family data with just one click to get a 360-degree view of your customers.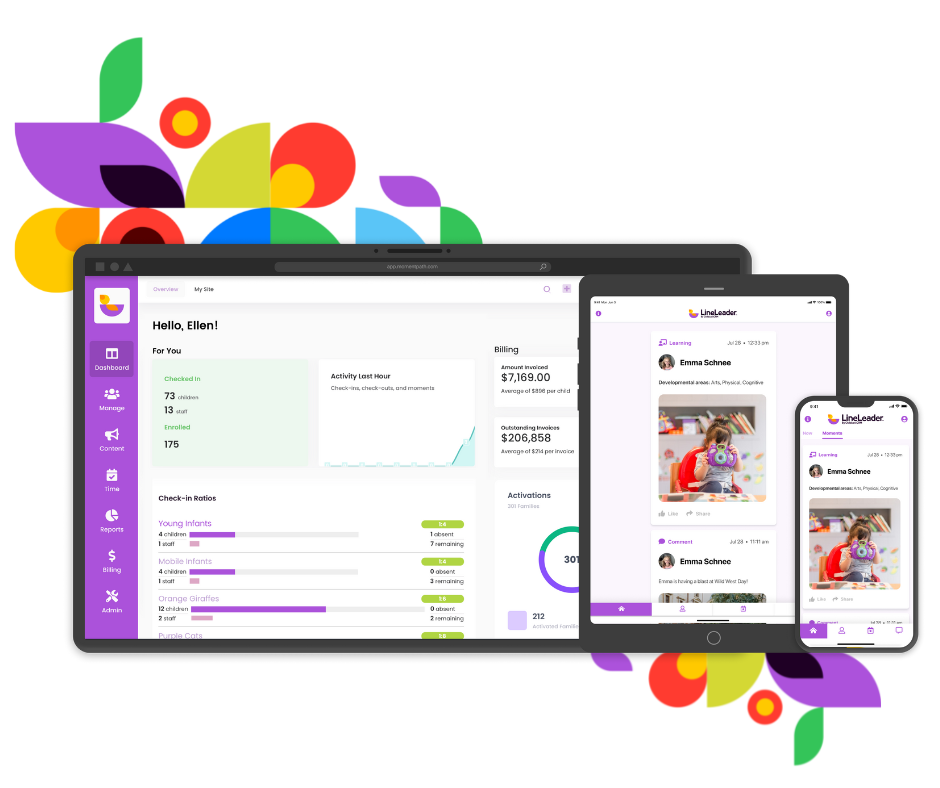 LineLeader by ChildcareCRM on desktop, tablet, and mobile
Does this change the ChildcareCRM mission?
We've always been on a mission to power the childcare industry. Our acquisition of MomentPath, company rebranding, and new LineLeader platform put us in an even stronger position to achieve that mission. Serving more than 5,000 childcare centres worldwide, we're as committed as we've ever been to helping childcare centres achieve their goals with the most complete, powerful, and simple software platform.
ChildcareCRM Customers
I'm a ChildcareCRM customer in Australia. How does this affect me?
Users of ChildcareCRM and ChildcareFORMS will remain on their current product(s) with no change. The only change for our Australian customers is our name which is now LineLeader. Customers will continue to work with the same great people they worked with prior to the acquisition.
Will there be a price change as a result of these changes?
No, you will continue to receive the great value you've come to expect from ChildcareCRM.
Who do I contact with questions?
Your Customer Success and Support team members will not change; meaning you can still reach out to the same team members you always have for any questions or support concerns.
Will I need to learn a whole new platform?
No, you can continue using your current ChildcareCRM product(s) and everything stays the same.
Will LineLeader be available to Australian Customers?
At this moment, LineLeader Engage and Manage products are not available for Australian customers. However, customers will be notified when these products are available.
What is exactly changing for me as a customer?
From a product perspective nothing changes. The ChildcareCRM company name will change to LineLeader which you'll see in our branding, social media, website, and communications.
What do I tell my centre directors and other parts of the company?
You can tell your centre directors and others that your ChildcareCRM products are not changing. But, they will see our new name and brand, LineLeader, as they communicate with support and other parts of the LineLeader organisation.
---
Already a User?
To learn more about industry-leading technology, visit www.golineleader.com or contact support at support@childcarecrm.com.