Not having a solid foundation for marketing your daycare center can lead to: 💭
low enrollment rates

decreased revenue
difficulty competing with other centers in your area
Improving your daycare marketing strategy is key to filling those open spots and keeping your business thriving!
Don't let potential families slip away - make sure you're putting your best foot forward with a well-crafted plan.
Let's start off strong! Explore 4 proven childcare marketing tips to help you boost enrollment. 👨‍👩‍👦
---
1
) Build
y
our
c
ontent
e
ngine
.
Fuel your content engine with messages that provide value to families.
Often, the foundation of a successful lead nurturing strategy is exceptional content. This can be in the form of blog posts or articles, videos, or any other type of media that educates prospective families about your center.
For example, share potty training tips for toddlers, how to encourage education at home, or new about an upcoming event!
Page Views

– number of unique entrances per blog article

Traffic by Channel

– number of sessions (based on different sources – direct, organic, paid social - ads, etc.)

Time Spent on Page

– average length of time visitors spent on your blog page

Bounce Rate

– how many visitors came to your blog article and exited quickly (with little to no interaction)

Top Traffic Posts

– your most popular content pieces, based on unique entrances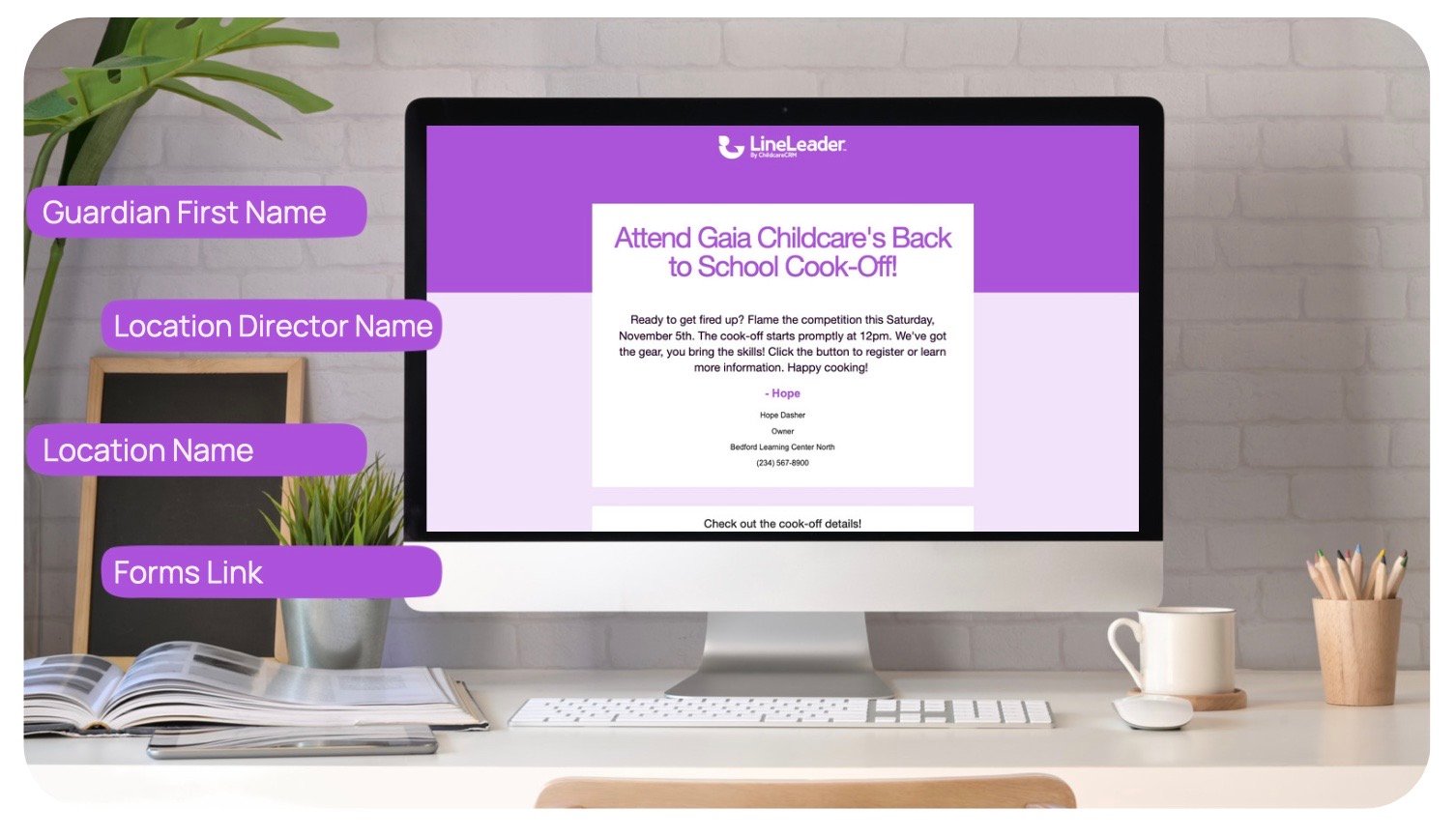 Email about a back-to-school cook-off
2

) Send

r

elevant

message

s

.
75% of customers are more likely to buy from brands that offer personalized digital experiences.
The first way to send relevant content is to segment your campaign. For your childcare centers, you may want to segment your audience and ideal customer (ICP) by...
Program of interest

Child's age

Lead source
Location

Parent's behavior
Use marketing automation to easily segment your leads to deliver valuable articles to the right families. Communicate in the right way at the right time to get real enrollment results.
Schedule a FREE demo to see the impact LineLeader can have on your centers. 🏫❤️
3) Use multiple channels to remain top of mind.
When it comes to enrolling new families, it's important to be quick.
It's tempting to let things slide when we're busy and have a lot on our plates. But if you wait too long to respond to a parent's inquiry, you can lose the opportunity to enroll them in your childcare program.
What are the best tips for email marketing success?
Email marketing can be a very effective way to reach and engage with your audience, but there are some key tips to keep in mind to ensure success.
Here are 3 of the helpful tips for email marketing success:
Segment your email list

: Group your subscribers based on their interests and behavior. This will allow you to send targeted and relevant emails that are more likely to convert.
Personalize your emails:

Use the recipient's name in the subject line and email body, and tailor your content to their interests and needs.

Personalization

can significantly increase email engagement rates.

Test and track your results:

Continuously test different elements of your email campaigns, such as subject lines, content, and call-to-action buttons, and track your results. This will allow you to identify what works best and optimize your campaigns for success.
Take your email marketing to the next level. Fill enrollment spots with ease by considering an email marketing tool – specifically built for the childcare industry. Automatically schedule messages to families – so no one's ever left wondering when they'll hear from you.
Plus, design professional campaigns, in a few clicks. Drip campaigns are personalized and unique to each family's interactions and interests. In no time, you'll build a beautiful marketing campaign that will attract new families to your center.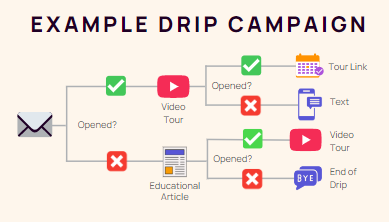 Example drip campaign
Quick ideas to boost your center's reach with Facebook marketing.
With the right Facebook marketing – your center will stand out against the crowd!
Use visuals

: Use images and videos in your posts to grab people's attention and make your content more engaging.

Engage with your audience

: Respond to comments and messages on your Facebook page promptly and engage with your audience. This will help build a strong relationship with your followers and create a sense of community around your center.

Run Facebook ads

: Consider running Facebook ads to reach a wider audience. You can target specific demographics, interests, and behaviors to ensure your ads are seen by the right people.
Get your brand in the spotlight: Instagram marketing advice for your childcare center!
Share behind-the-scenes glimpses of your center, including happy children and engaged staff.

Encourage parents to share their own photos and experiences, and tag your center in their posts.

Share educational content related to childcare and parenting to

establish your center as a thought leader in the industry

.
4) Communicate consistently to touch base with families.
The likelihood of enrolling a new family drops 21 times if you respond to parents in 30 minutes, compared to 5 minutes. And as any marketer knows, there's a communication guideline called 'The Rule of 7' that states a prospective family needs to hear, see, or read about your childcare program an average of seven times before they're most likely to enroll.
For optimal conversion success when implementing The Rule of 7, follow these tips:
- Repetition is key. Use similar messaging, imagery, and contact information in your marketing so that people become more familiar with you each time they see or hear about you. Consistent communication helps to build your brand and establish a reputation with families.
- Nurture and guide families through your enrolment pipeline. The ideal range for properly nurturing families through enrollment is 5-10 workflow automations.
---
Boost enrollment with intentional childcare marketing tactics.
In this day in age, it's tough to grow enrollments at your center, especially across locations. Families are looking for a very personalized, speedy enrollment process. And to be honest – it's hard to find the time.
That's where we come in.
Schedule a FREE demo to see the impact LineLeader can have on your centers. 🏫❤️
Want expert childcare advice?
Check out our NEW guide for an enrollment and marketing strategy that works. ✅