Let's be real – you've got a tough job.
From managing a 20, 30, or even 40-student classroom and fostering development, to creating new curriculum and activities, to maintaining relationships with parents – it's a lot to handle.
But it's absolutely critical. Since 90% of children's brains are developed between the ages of 0-5, you're more than a caretaker. You're a brain architect.
And the last thing you need to be worrying about is making sure parents are reading their children's daily sheets...
Let's explore some of the modern digital resources available to educators, like you, that can help you focus on more of what matters most – the students in your care - and how to ask for these tools!
---
Why

teachers

need

access

to

di

gital tools in the classroom

...
You have so many things to juggle – from tracking each student's development to communicating with families and developing curriculum to managing challenging behaviors to so much more...
And it's a challenge to balance all these tasks, especially when you're being asked to work harder, not smarter.
With the right systems in place, you can craft beautiful lessons, provide real-time updates to families, and track student progress effortlessly.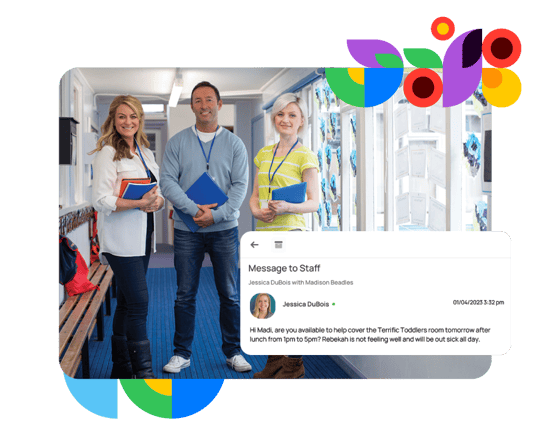 Teachers communicating with parents via LineLeader Engage.
Essential

Family Engagement App

Features t

hat

Give Teachers a

Helping

Hand
Lesson-sharing & developmental tools
Helpful ways to boost parent-teacher communication.
Use a parent app to keep families in the loop with photos, calendar updates, notifications, and more.
Digital Newsfeed: Easily post updates to the digital newsfeed to let families reply and react. Plus, get a report that shows the reactions, comments, and interactions your posts are receiving so you can actively see the impact you're making!
Unlimited Messaging: Send messages to families and have them quickly respond - directly through the app (not your personal device – so you can keep work

at

work). Automate quick reminders and notifications or send emergency alerts to keep families 'in the know'.
Self-service features to save valuable instruction time.
Make it easy for parents to check students in, provide notes in the app at drop-off, and access portfolios digitally through a mobile app. That way, you can save time for what matters most – providing quality education to your students.
---
Ready to give it a shot?
LineLeader's parent engagement app, Engage, is beloved by Owners, Directors, Teachers, Administrators, and parents. But don't worry – you can leave the convincing to us!
Our team of product experts talks to childcare business leaders every day, spreading the word about the remarkable benefits of our cutting-edge childcare software.
Simply click this button to refer your owner or director to get $100. 🏦
Already a user?
Fewer headaches = happier educators. 😀
Learn more about how LineLeader Engage can get rid of teachers' stress.
Additional Blog Resources