Are you tired of juggling multiple communication channels, like phone, email, social media, and daily paper reports just to connect with parents and keep them updated?
Finding the time to individually engage with each family can seem like an impossible task, but it's an important one. That's why it's essential to explore solutions that simplify communication and empower you to build strong connections with families.
Explore a user-friendly family engagement app in action.
---
Table of Contents
Frustrating Barriers that

Impact

Family

Engagement

and

Center Efficiency
If you're still using outdated methods like pen, paper, or complicated technology to communicate with parents – you and your staff are likely facing the following issues:
Time-consuming administrative tasks and paperwork overload

Slow to no responses from families

No way for staff members to easily clock in
Stressful drop-offs and pick-ups
Your families crave consistent follow-up and an excellent experience, too. Here's what they're met with when expectations run low:
Difficulty staying updated on their child's daily activities and milestones

Limited access to important information

Lack of easy ways to pay tuition

Stressful drop-offs and pick-ups
The Solution: A

Convenient

Mobile App for Staff and Families
Imagine having a mobile app that makes it easy to communicate with your families and consolidates all your communications in one place.
With a user-friendly app, you can easily meet the demands of managing your center and engaging families (whether you're away from your desk or not). Give parents the option to self-serve when they want, how they want—so you get time back in your day.
Plus, a family engagement app eliminates the hassle of your staff manually messaging parents. Save time, stress, and energy. Let's explore the advantages of an intuitive family app.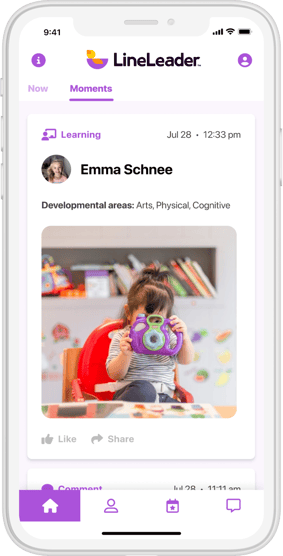 Example of a convenient mobile app
1) Centralize Communication Channels
42% of childcare professionals send updates to families about their child's development 2-3 times per week. A mobile app brings together all your communications, making it easier to connect with parents. You no longer need to juggle between phone calls, emails, and social media messages.
Instead, you can have all conversations in one place, ensuring that important information is not missed or lost in the chaos of different channels.
2) Improve Efficiency with Real-Time Updates
Gone are the days of relying on daily paper report sheets to keep track of a child's day. With a mobile app, you can provide real-time updates on a child's activities, meals, and milestones. Parents can easily access and interact with this information, fostering open lines of communication and creating a collaborative environment to support a child's development.
3) Foster Meaningful Engagement
Engaging families is not just about sharing updates and information. It's also about creating opportunities for meaningful involvement in a child's education and well-being. A mobile engagement app allows you to share educational resources, event calendars, and participation opportunities with parents. By involving families in these aspects, you create a sense of partnership and empower parents to actively contribute to their child's growth.
4) Simplify Administrative Tasks
Managing administrative tasks, such as attendance tracking, scheduling, and billing, can be time-consuming and prone to errors. A mobile app can automate these processes, reducing administrative burdens and freeing up more time for you to focus on providing quality care. Parents can conveniently access and update information, making the entire administrative process seamless and hassle-free.
Once at your center, staff and educators can instantly check students in (or out) using the app. Help your team balance classroom ratios (per state rules) and ease drop-off chaos for busy parents – whether kids are on time, late, or absent.
Plus, you can easily track employee hours in-app too. With the click of a button, simplify the way your staff clocks in/out and how you review timecards.
5) Provide Automated Payments for Families
Did you know that 66% of Millennials believe automation adds value to financial services and banking? Harnessing the benefits of automation can improve the way you handle payments at your childcare center, making the process seamless and hassle-free for everyone involved.
Imagine this: a parent falls behind on their child's tuition. Instead of resorting to uncomfortable conversations, why not automate the billing process and send gentle past-due reminders? With the right solution, you can effortlessly integrate a convenient payment method into the same app where families receive all their other updates from your center.
Families get one invoice, one billing cycle, and one place for payments. Parents can even set up autopay.
---
Streamline
Y
our
C
enter
and
P
arent
C
ommunication
By embracing a parent engagement app to simplify communication, you can enhance family engagement and create a more enriching childcare experience.
Whether it's sharing important updates, involving families in their child's education, or streamlining administrative tasks, the right mobile app can empower you to build stronger connections with families and nurture a thriving childcare community.
Not a User Yet?
Explore an efficient tool that simplifies communication with families.

Already a User or Simply Want to Learn More?
Check out the Knowledge Base to make the most of your family engagement app.