Can you remember the last time you went a day without checking your messages, chatting with a friend, or making a quick payment via one of the many apps on your phone?
Neither can we. With the rise in Millennial and Gen Z parents, a tech-enabled childcare center is no longer an option — it's a must.
Yet for many centers, family engagement remains complicated and center-led.
And that's a problem because, over the past 20 years, the companies that adopted a technology-driven customer experience have been those that have come out ahead. In this blog, learn more about the family experience and intuitive technology to help retain your families with ease.
---
From engagement to experience: Why the right early education software is a must for every center
For the childcare community, what does a customer-led experience include exactly?
Unfortunately, the family experience at many centers still leaves a lot to be desired.
Often, the parent logs into a portal (in some cases, more than one), where they manually upload documentation and read upcoming announcements about their child's activities. With no transparency into their child's daily learning experiences, parents and families are left to guess — and stress — about how their young children are spending their time while they're away at work all day.
When families are met with antiquated systems from their childcare provider, staying engaged becomes a chore. And the same is true for your team members who are often tasked with wrangling more than six back-office systems. Read this additional article - what is family engagement - to learn more.
Essential Features of Early Education Software
Not all childcare management tools offer a modern and unified staff experience. Here are the core benefits and features to look for in order to choose the right early education software that will streamline your early childhood education business.
1) Integrated messaging and staff collaboration.
With a classroom of children under the age of six, teachers don't have time to sift through emails, texts, and voicemails — they need to reach families as quickly and easily as possible.
With a secure messaging center in the same app where parents and caregivers already interact with your center, your team members can finally drop the Q&A juggling act and provide an engaged and responsive experience for families.
LineLeader's Engage module provides a user-friendly parent app and parent portal where team members can easily and securely share important announcements as well as key learning moments and milestones.
2) Digital portfolios help transform tracking and reporting child milestones.
With LineLeader, you can digitally document growth quickly and easily—all while staying on top of your program's changing curriculum. You can update child portfolios and track observations—in just a few clicks.
Effortlessly build relationships by sharing overall progress results in parent-teacher conferences. You can even inform guardians of key developmental milestones achieved throughout the school year! Early education software bridges the gap between families and educators.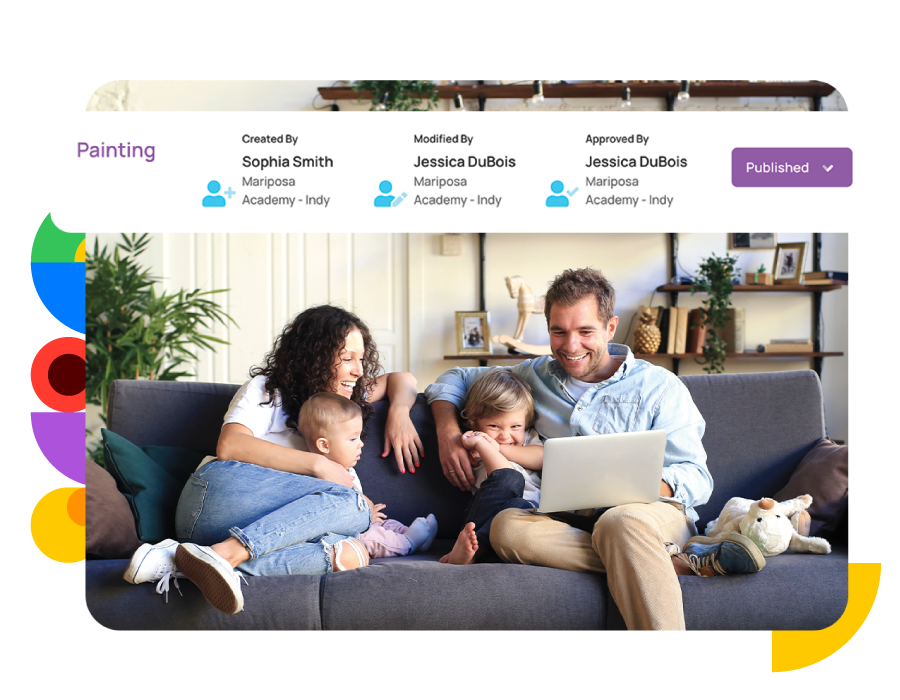 Parents viewing each child's memorable moments
3) Elevate your curriculum with hands-free lesson planning.
Lesson planning can be a stressful process. You want to get it right, but you don't want to spend hours on it—you just want to get it done.
But what if we told you that there was a simpler way? What if we told you that we could help you build a curriculum for your classroom in minutes?
With easy-to-use tools, educators can save time and get back to teaching with ease. They don't have to worry about spending hours creating lesson plans.
And teachers can collaborate with each other in real-time by sharing lessons. This way, everyone stays on track and always has access to all relevant updates without having to spend hours building lesson plans from scratch every day.
---
Engage families with the right early education software.
In an increasingly competitive market, the family experience is critical to your success. By adopting a unified childcare platform that delivers the user experience families expect, you can position your business to attract, retain and engage happy families far into the future.
Already a User or Simply Want to Learn More?
Download the family engagement guide with a complete bundle of templates and tips to help you engage families with less work.
Not a User Yet?
Schedule a free demo to see a simple tool that engages your families, with less work.
Additional Video Resources
Additional Content Resources